Iceland Day 2 – Puffins
I awoke early in Reykjavik, excited by the prospect of puffins. Such strange birds, living most of their lives on the open ocean and returning to land to breed in burrows on cliffs.
I have to confess, my inspiration for this trip came from my ex, who described the scene as she watched them from a hide on Vestmannaeyjar, surrounded by photographers with enormous cameras waiting for puffins to arrive from feeding at sundown.
Unfortunately her pictures of the event are less than satisfying. Without the enormous zoom lenses surrounding her all she was left to document her experience was black and white blobs in the distance.
I had bought for the trip a Panasonic LUMIX DMC-ZS60 with a 30x zoom and optical stabilization. First camera I ever owned, size of a pack of cigarettes. And at a reduced price with the release of the next model.
The plan was to spend the morning hiking to Reykjadalur to bathe in natural hot springs, move on to the famous Seljalandsfoss waterfall, then take a late ferry to Vestmannaeyjar for puffins at midnight. But the hot springs did not exactly work out. When I got there it was deserted, with no apparent markings for the 45 minute trail to the springs. It was raining hard and cold, and my schedule would not allow for an extended wait for people to turn up and show me the way. I decided that I would console myself with a good soak in a hottub later in the day, part of the Iceland experience. So I communed with nature in the rain, enjoyed the volcanic activity visible from the parking lot, and moved on.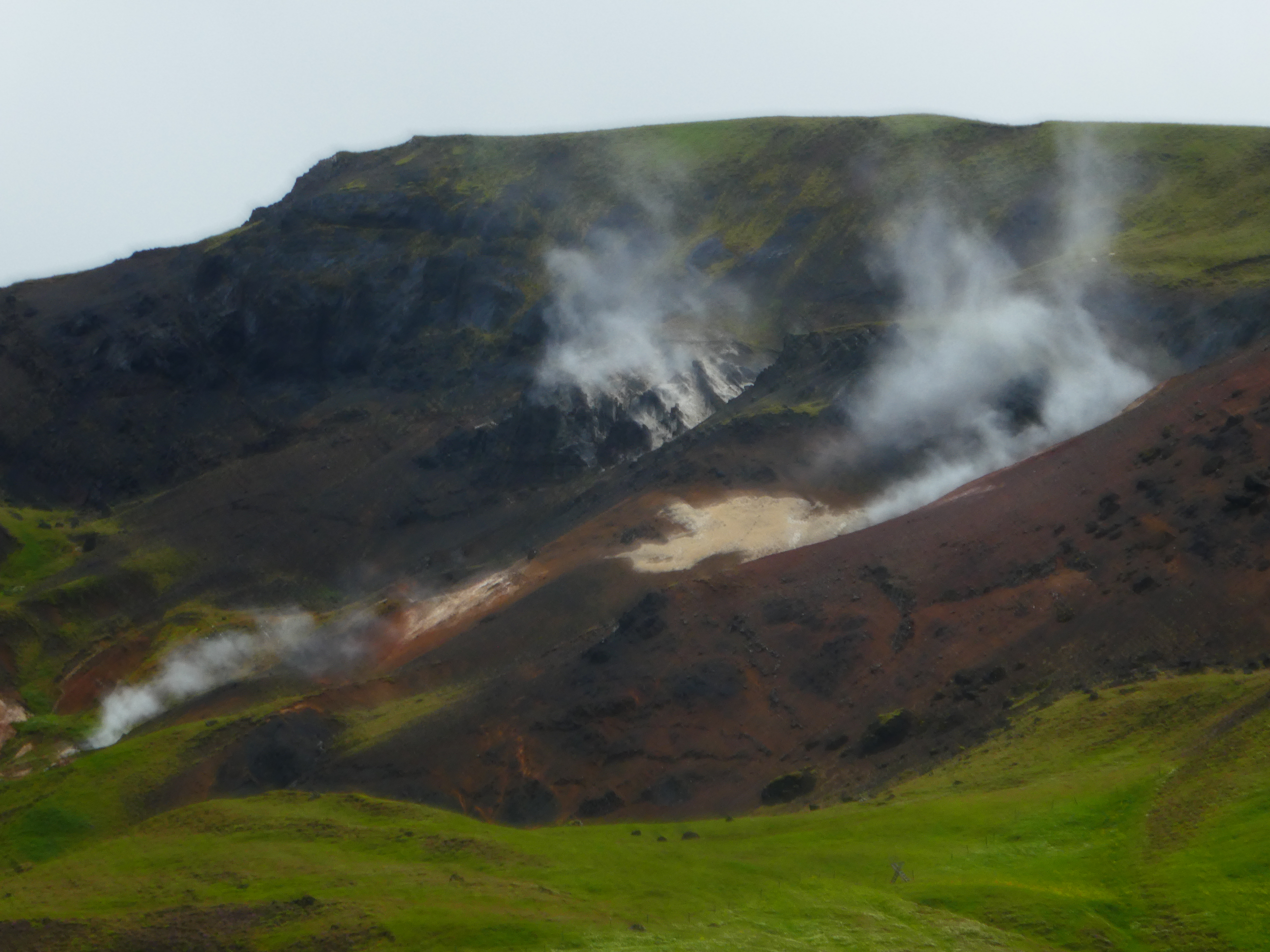 The rain continued to Seljalandsfoss, but I contained my disappointment that there would be no sun to make rainbows through the spray. The parking lot was nearly full when I got there, and three coaches had disgorged full loads of day trippers. But I felt that we were all there with common purpose, to get wet walking through the cavern behind the waterfall, and make memories to last a lifetime.
I had plenty of time to kill before the ferry, so I took a side trip to Vik, where the hot tub was hot and the sauna hotter. I am not a sauna afficionado, so I don't know whether 150°F is the norm, but I only lasted ten minutes before heading for the ferry. A word of warning, the ferry is generally full, book in advance.
The Puffin Lookout was easy to find (Google Maps is such a wonderful thing, though it only seems to go as far as the parking lots), and the hide was sturdy and protected me from the elements. Even though I had taken the last ferry, I was there at 9pm, I knew I had a wait. A number of times I explained to fellow tourists that they would have to wait, but patience is apparently no longer a thing, so I was alone when I finally captured an image I was satisfied with.
Back to my campervan in the twilight after midnight.